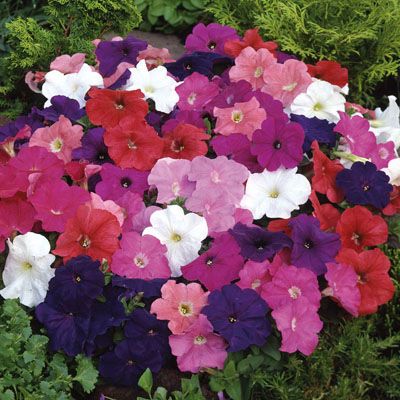 Petunia Mambo series
Mambo Petunias have a compact, low growing plant habit, earlier flowering and larger blooms than most typical multi-floras. At the end of the summer when petunias are known to get leggy, Mambo maintains it compact height but will have a slightly wider plant spread than its predecessor, filling in gardens and landscapes more quickly.
DETAILS:
Starter Plugs: From Seed

Location: Full Sun
Height: 4"-8"
Width: 8"-12"
Colors: Deep Purple, Peach, Pink, Purple, Red Morn, Rose, Rose Veined, Salmon, White, Formula Mix, Growers Mix
PLEASE READ:
• Your plug plant order will take approximately 12-14 weeks to grow, from seed or cutting to rooted plug plant. YOU ORDER --> WE PLANT --> WAIT 12-14 WEEKS TO GROW --> WE SHIP TO YOU!
• Plug Plant availability is subject to change depending on availability of seeds/cuttings at the time of your order.
• Photo is of plant in Full Bloom. We sell starter Plant Plugs which are small plants with an establishing root system. All plugs should be transplanted to appropriate pots to establish roots before being planted in the ground. Additional information for growing plants in your area can be searched on the internet.