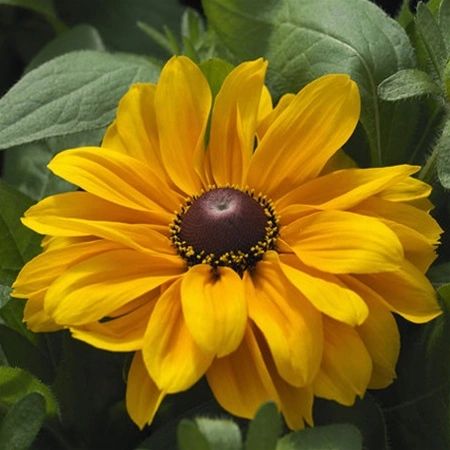 Rudbeckia Tiger Eye Gold
Rudbeckia Tiger Eye Gold simply leaves all other Black-eyed Susans in the dust when it comes to number of flowers, length of bloom season, and uniformity of plant size! It is a blooming machine, setting fresh buds the minute the old ones are cut or deadheaded, and the petals blaze a bright orange-gold around a dark brown eye. Flowers measure 3 to 4 inches wide and they are mostly semi-double (with some fully double and some single). Great for borders, cottage gardens, wild gardens, meadows, mass plantings and cut flowers.
DETAILS
Starter Plugs: From Seed
Location: Full Sun
Height: 16"-24"
Width: 16"-20"
Color: Leaves are fuzzy dark green, Flowers are bright orange-gold around a dark brown eye.
PLEASE READ:
• Your plug plant order will take approximately 12-14 weeks to grow, from seed or cutting to rooted plug plant. YOU ORDER --> WE PLANT --> WAIT 12-14 WEEKS TO GROW --> WE SHIP TO YOU!
• Plug Plant availability is subject to change depending on availability of seeds/cuttings at the time of your order.
• Photo is of plant in Full Bloom. We sell starter Plant Plugs which are small plants with an establishing root system. All plugs should be transplanted to appropriate pots to establish roots before being planted in the ground. Additional information for growing plants in your area can be searched on the internet.