Tomato Tumbling Tom (Patio)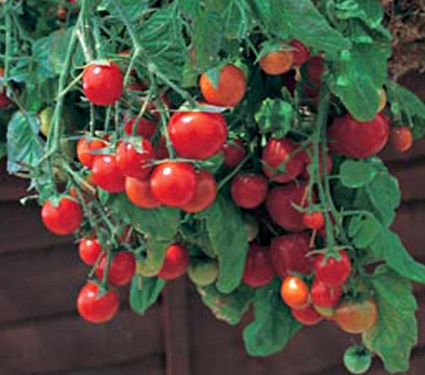 Tomato Tumbling Tom (Patio)
The Tumbling Tom cherry tomato plant has a weeping habit, so it dangles about 24 inches over the sides of containers, with big handfuls of luscious Cherries right at eye level! This lovely "edible ornamental" is just perfect for hanging baskets, window-boxes, and tall containers. A great choice for small space gardens, urban balconies, and any other bright sunny setting.
DETAILS:
Starter Plugs: From Seed
Location: Full Sun
Height: 24"
Width: 6"-8"
Tomato Colors: Red, Yellow
PLEASE READ:
• Your plug plant order will take approximately 12-14 weeks to grow, from seed or cutting to rooted plug plant. YOU ORDER --> WE PLANT --> WAIT 12-14 WEEKS TO GROW --> WE SHIP TO YOU!
• Plug Plant availability is subject to change depending on availability of seeds/cuttings at the time of your order.
• Photo is of plant in Full Bloom. We sell starter Plant Plugs which are small plants with an establishing root system. All plugs should be transplanted to appropriate pots to establish roots before being planted in the ground. Additional information for growing plants in your area can be searched on the internet.